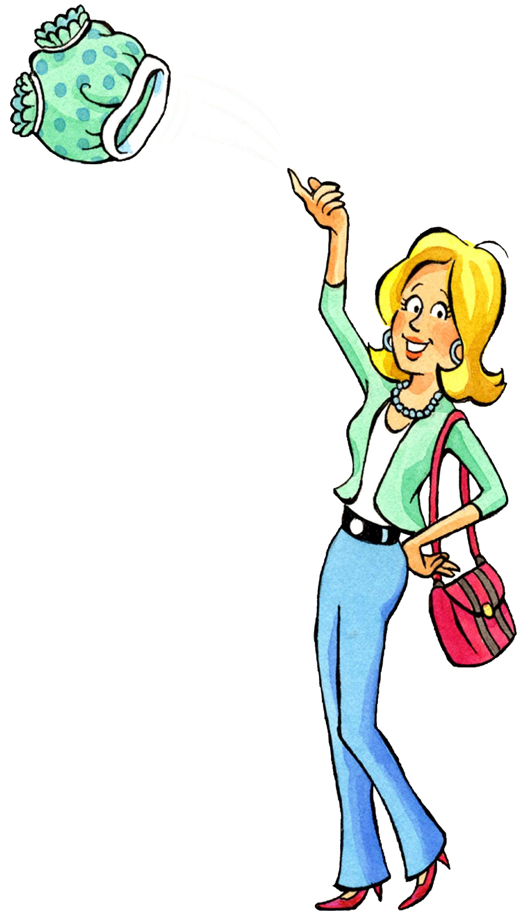 A woman's self-talk is her most powerful influence, mainly because it never shuts up! It can lift her up or bring her to her knees, sometimes within minutes. Mary Fran Bontempo knows how to tackle your self-talk, taming the beast and freeing the cheerleader.
Founder of the lifestyle blog, Not Ready for Granny Panties, and author of The Woman's Book of Dirty Words, and Not Ready for Granny Panties, Mary Fran proves that your self-talk is where your life starts, teaching women to be positive, productive, and vital in a rapidly changing world.
A Huffington Post contributor and columnist for Women's Voices Magazine and Best Kept Self, Mary Fran has been honored by the Erma Bombeck Writers Workshop, Humor Press, and the YWCA, among others.
A frequent media guest and speaker, audiences delight in Mary Fran's empowering and entertaining message, as she inspires readers and listeners to clean up their "dirty words" and tweak their lives with simple "commandments" that yield big results, with a healthy dose of humor along the way!
Mary Fran knows her audience and delivers a message that entertains, educates and inspires women to make small changes in their routines that lead to significant improvements in their lives. Funny and practical, Mary Fran speaks from experience and engages the crowd to go on a journey of self-discovery full of laughter and free of pain. You'll enjoy yourself and see your world a little differently!"

– Maria Martino Evans
Mary Fran Bontempo is very much in tune with who we are as women. Her presentation is a humorous yet honest look at ourselves as nurturers and caregivers. She shows us how in our strive for perfection we are our own worst enemy, and gives us permission to free ourselves from a self-imposed sentence of 'doing everything for everyone else we love.' Prepare for an evening to be enlightened, entertained, and to have a renewed sense of appreciation for your inner 'you'.

– Sue Price, President, Soroptimist International of Indian Rock
I had the extreme pleasure of interviewing Mary Fran Bontempo for my radio show, 'Women to Watch.' Not only is she authentic, but she is delivering a message to women that is inspiring, relevant and full of the kind of humor we all need in this ever changing world. None of us are spared from challenges in life and Mary Fran has made it her mission to help guide us "ladies" through these times with grace and humor in order to find the joy! It is the kind of reminder that keeps us focused on what really matters and pulls us back in when life becomes a scary place. I would highly recommend Mary Fran as a speaker, writer or even a "go to" woman for anyone looking to regain some perspective in order to see the joy that life has to offer!

– Susan Rocco, Founder/Host, Women to Watch
Mary Fran Bontempo is a breath of fresh air! Whether it's her fun and thoughtful writing or her compelling speeches, Mary Fran leaves you with much to contemplate. Insightful and humorous all in one, Mary Fran helps the middle age woman navigate the path to finding or reclaiming her voice. Mary Fran has a finely tuned awareness of the emotional challenges women encounter. I highly recommend her book, 'Not Ready for Granny Panties,' or hiring her as a wonderful, dynamic keynote speaker!

– Ellen Faulkner, The Bucks County Psychotherapy Group
Mary Fran Bontempo is a delight to work with on every level. First and foremost, she is the ultimate professional. She meets deadlines, and her work is always top-notch in content and quality. Her column with Women's Voices Magazine is consistently one of the most viewed, and I know the readers enjoy her thoughtful writing style. Her work puts a smile on your face and you understand immediately why Mary Fran is an award winning humorist. In addition, she has a supportive and lovely personality. She is quick to offer encouragement to others and is a team player who has added to the growth and success of the company. Women's Voices Magazine would not be the same without Mary Fran's participation and outstanding work. I highly recommend Mary Fran as a positive factor for any company or project to be lucky enough to have.

– Brenda Krueger Huffman
Executive Editor of Women's Voices Magazine

Mary Fran commands the attention of her audience with relatable stories and self-deprecating humor. Extremely comfortable on stage, she keeps everyone laughing throughout her presentation. Mary Fran inspires and encourages women to improve their lives to work less, enjoy more, and take better care of themselves. Her life lessons, or commandments, are based on her entertaining book "Not Ready for Granny Panties." A petite woman who packs a big fun punch–your audience won't be disappointed!

– Jamie Broderick, Founder, Network Now
Mary Fran was on my show "The Wellness Journey-Live!" recently and she was awesome. Her style of taking something that most Women don't want to talk about (aging) and putting in a way that anyone can relate to is refreshing. Mary Fran's sense of humor is contagious and her ability to connect to her audience is wonderful. It is rare to find someone who makes you feel like you have known her for a long time. Mary Fran has that gift. She pulls you in with her sense of humor and her ability to share stories that really help women to receive her message of self-love and renewal of spirit. Mary Fran is a great author, speaker, talk show guest, and most importantly a great person. I highly recommend her for ANYTHING she chooses to pursue.

– Lynnis Woods-Mullins
Talk Show Host "The Wellness Journey! LIVE"

Top qualities: Great Results, Personable, Creative, Engaging and inspirational are two-(delete the word "two") words that immediately come to me when I think of Mary Fran Bontempo. Mary Fran recently spoke at a fundraiser for Sisters U and challenged her listeners to lighten up, live better and to get more comfortable pushing out of their comfort zones. Mary Fran's presentation was powerful and effective and funny! After she spoke, I received so many requests to hear her again and to be informed of her speaking agenda. Even more, Mary Fran lives what she teaches. Things were not as promised when Mary Fran arrived to do her presentation. Yet she was gracious, positive and didn't miss a beat. I look forward to working with Mary Fran in the future. She is a gem and a true advocate of the empowerment of women.

– Karen Chellew, President, Sisters U
Mary Fran was the speaker to open our year. She was compelling, entertaining and motivating. Her message was delivered in bits of everyday stories that our audience could relate to and understand. She certainly got the group off on the right foot for the New Year!

– Lynn Sharer, President, Women's Business Forum
We women talk—a lot. Yet, the words that take others to their happy place often make us miserable. Words like "vacation," "change," and "balance" can leave us breathing into a paper bag with our heads between our knees. It doesn't have to be that way. Join Mary Fran Bontempo and The Woman's Book of Dirty Words and redefine the "dirty words" that make women cringe. You'll laugh, learn, tweak your self-talk, and trim your "dirty words" list down to size!